This year our conference is being hosted by Rotterdam University of Applied Sciences in the vibrant port city of Rotterdam. The city's seafaring history is fascinating to explore. It has grown from the times when the Pilgrim Fathers left on their epic journey to colonise North America to now being the largest port in Europe.
Following the ravages of the Second World War, the city has been reconstructed using the most contemporary and innovative architectural designs. The multi-cultural composition of the population in a great port city presents challenges to health and social care service provision and the education of those who will deliver those services. What better situation in which to set this year's conference.

Together we will have the opportunity to focus on the theme of

Urban Health: inclusion and sustainability in super-diverse cities
The sub-themes will explore
| | |
| --- | --- |
| Students | Education and diversity |
| Clients | Practice and diversity |
| Healthcare professionals | Labour market and diversity |
It is inspirational for the COHEHRE Council to work with our hosts on building the conference programme. It will be an exciting conference.The theme and sub-themes will offer opportunities to meet and discuss our thoughts, experiences and issues which arise and most importantly to learn together. There will also be time to focus on your engagement with further development of the three current branches of COHEHRE's operation, the Academy, Research and Strategic Management groups.
I look forward to meeting you there!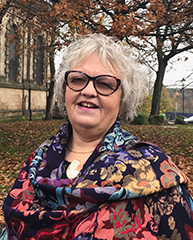 Jennifer Lewis Smith
COHEHRE President